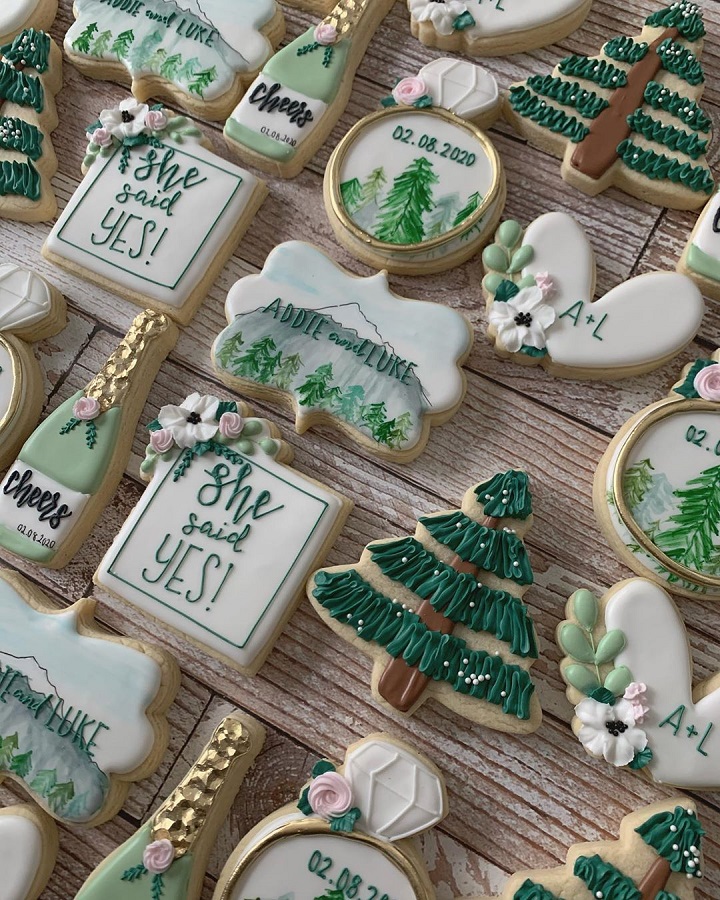 We are shining the spotlight on Michelle Riley who is making cookie magic in Beverly, Massachusetts with her custom cookie company, Made by Michelle.
I know we aren't the only cookie monsters who swoon over the Insta-worthy cookie designs that flood our feed. Which is why we were absolutely thrilled to connect with Michelle and learn more about how she got her start, as well as any little delicious insights that she wanted to share with us.
How did Made By Michelle get started?
I started decorating cookies as a hobby for the holidays. Soon after I started getting inquiries for custom orders
What do you love most about the wedding industry?
I love being able to design custom wedding cookies for couples getting married. I love chatting with the brides-to-be about what they are looking for and designing something special and custom for their special day.
What is the number one piece of advice you would give to a couple who is just beginning their vendor search as it pertains to your services?
I provide custom cookies and cookie favors. My piece of advice is to plan what your budget would be to spend on favors. It helps to know if I am able to design something custom for them that fits within their budget.
Any insights for aspiring planners?
I have not worked directly with a wedding planner yet. I have primarily work with mothers-of-the-bride and the brides-to-be. The cookies are typically ordered by them and they have picked them up prior to the event. Although I haven't had to deliver to an event or set up cookies yet, if I had to, it would be helpful if the planner told me how they wanted the cookies set up/displayed.
Is there anything else you would like our readers to know about you?
I am a mother of 3 girls, I also work full-time as an IV nurse. Made by Michelle was started as a hobby then turned into a business. I work out of my licensed residential kitchen in Beverly, MA. I can provide custom cookies for all of your events.
Check out Made By Michelle on Instagram and see for yourself why we wanted to share her confections with our community. If you're in Beverly, MA and have a chance to enjoy an actual cookie experience, then have one (or a dozen) for us so we can live vicariously through you!